Director Overviews: Mel Brooks
Director Score: 84/100
Influence Score: 80/100
Mel Brooks has the most successful line of comedy films ever! Each one is a classic. I have seen most of his films and they are all hilarious and clever! From Young Frankenstein to Robin Hood: Men in Tights, all his films are filled with hilarious jokes and antics. Brooks has made some of the funniest and most memorable comedies around. This Director Overview will cover why Mel Brooks is a legendary comedy director and what the great films he has wrote, directed and produced.
Brooks' career started

as

a stand-up comic performing in summers at the

Catskill Mountains

, telling jokes and doing movie-star impressions. He found more rewarding work behind the scenes, becoming a comedy writer for television. He joined the hit comedy series

Your Show of Shows

with

Sid Caesar

and

Carl Reiner

. Reiner, as creator of

The Dick Van Dyke Show

, based

Morey Amsterdam

's character Buddy Sorell on Brooks.
In 1960, Brooks teamed up with Reiner as a comedy duo on The Steve Allen Show. Now let's forward a few years to where his huge success began. Brooks created the successful TV series
Get Smart
, starring
Don Adams
as a bumbling secret agent. This series added to Brooks' reputation as a clever satirist.
This is not all his films, but the most notable ones.
In 1968 came his first film, 'The Producers'. In my opinion this is still his funniest film. I don't know why, but Gene Wilder and Zero Mostel worked so well with each other it created such a hilarious blend of acting. The Producers for those who don't know is about
a washed up producer called Max Biallistock whose latest play flopped. A man comes to do his books by the name of Leo Bloom. He notices $2,000 unaccounted for as Max tries to convince him to cover it up. Pretty soon Leo makes a minor theory of how you can make a flop and make more money with it than a hit. Pretty soon Max takes this idea and soon they become partners. They look for the worst play ever writer, and they find 'springtime For Hitler'. The rest is for you to see in this outrageous comedy.
The film features a crazy Nazi, a very gay play producer and a foreign secretary named Ula.
Hitler (Left) in the springtine For Hitler musical.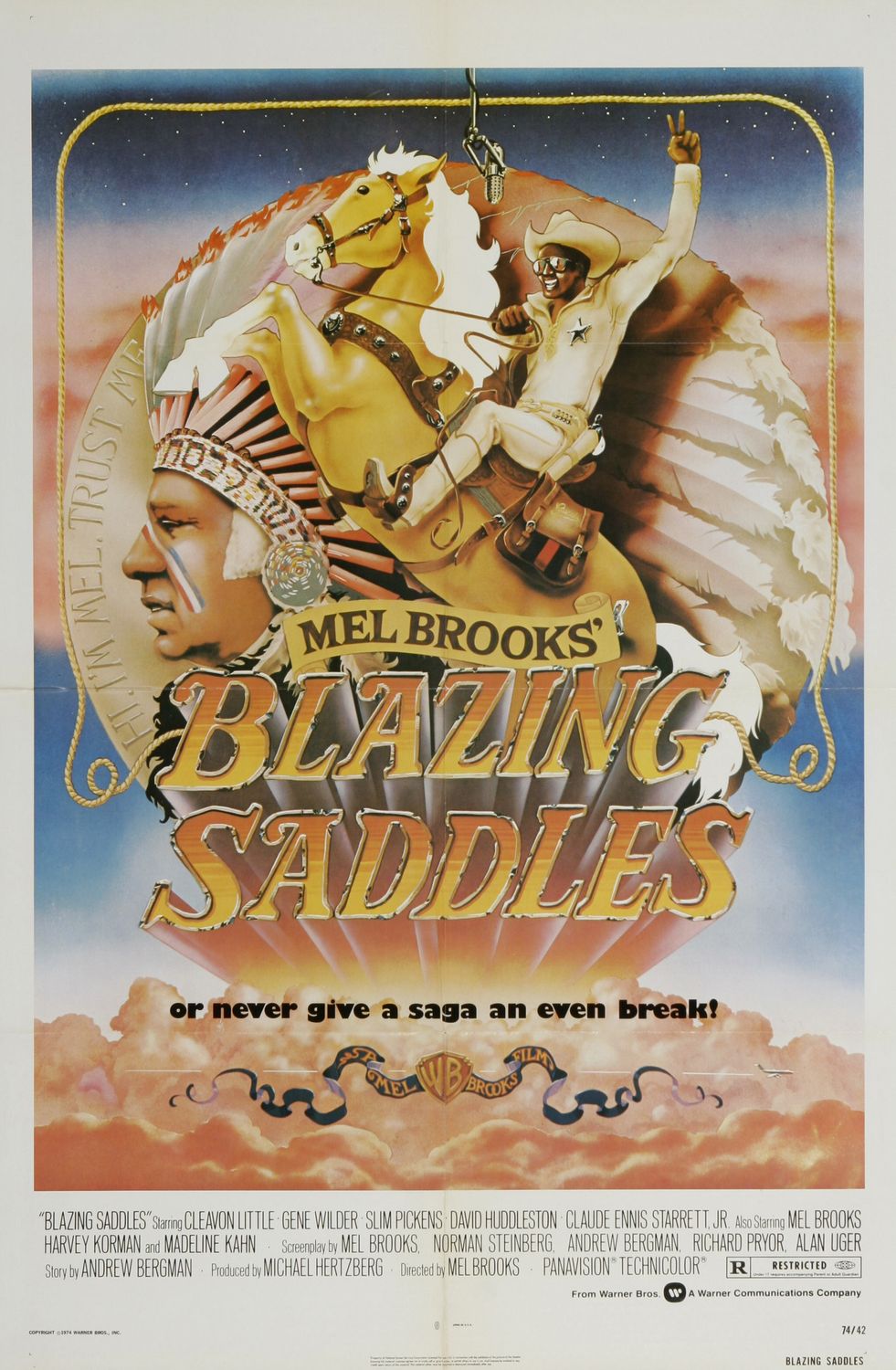 This is another fine piece of work from Mel. The fact that he got away with all the extreme racial jokes I'll never know, but that's what I think makes it funny, the fact he is getting away with it. Blazing Saddles takes place in a town in the west, and a new Sheriff is needed. A black man ends up as the sheriff, and the film just basically follows the struggles of him trying to be a mayor. It also features Gene Wilder and Mel Brooks himself (as an Indian). Brooks also plays another great character, the cross eyed governor. It was a hilarious acting performance.
The sheriff (Right) and The Waco Kid (left)
Young Frankenstein (1974)
This is another one of my favourite workings from him. Young Frankenstein s a comedic tribute to classic horror films, and is made in black and white. I think it was a good idea because it makes it feel very authentic. The title sort of describes this film, and it basically follows Dr Frankenstein (Gene Wilder) -pronounced Fronkenstein- who goes to a castle to complete his experiment. At the castle he meets Igor (Marty Feldman), who is one of the funniest characters in the one screen universe. Especially with his memorable line "

Soitenly. You take the blonde, I'll take the one in the turban.

". The film is extremely funny and has some of the finest scripted humour in a comedy film. Another excellent production from Brooks.
Igor (Marty Feldman)
Robin Hood: Men in Tights (1993)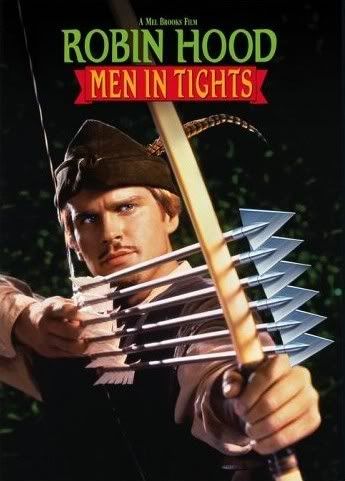 This one isn't as well critically received (according to Rotten tomatoes anyway), but I still think it's a pretty good film. As usual Brooks has thrown his mockeries of cliché things in films and the film itself is very funny. Not much to say about the story because it's Robin Hood, and we all know that story. However, Brooks has altered the story. One of his last films of being the director and writer of, and was again, very funny.
It's Brooks' style of film making that I love, and it is easy to see when a film has been written or directed by him. To begin with he often appears in his films as a minor character, such as the Indian in Blazing Saddles. Brooks has a brilliant sense of humour. The way he pokes fun at the clichés of film, and was one of the firs to do that (other than the cartoons, e.g. Looney Tunes and Tex Avery) It is clear to see how he has inspired comedians and directors with his great workings. I guess you can call Brooks a rebel comedian as he takes the risk with films like Blazing Saddles. Several racial jokes, and somehow gets way with it. It's fantastic! The fact he gets away with the racial jokes is the funny part in a sense.
Brooks has also made several cameo appearances in TV shows and films, and has done quite a bit of voice acting for animated features.
In 'The Muppet movie' Mel appears as the mad scientist. He shows some very funny acting here.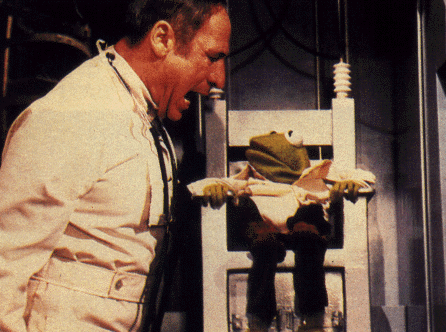 The Mad scientist with Kermit the Frog.
The Fly I & II (1980's films)
Apparently Brooks was an un-credited producer of these films.
The Simpsons (1995)
"Homer vs. Patty and Selma"
He appears as himself on The Simpsons.
He is the voice of the robot inventor Bigweld.
Brooks wrote and produced the remake of The Producers. He also makes a small cameo in the film.
His films always make me laugh, and have brought laughter to many people, throughout his workings. His use of comedy is genius! He isn't the best comedy director there is, but he is up there. His work is very inspirational and is a great film maker. Brooks may not be one of the best directors of all time, but he is certainly one of the funniest. He has one several awards including 'Saturn Award for Best Direction' and 'Best Original Screenplay' for The Producers. Overall Mel Brooks is a great director, writer, and man in the film business, with a definitive comic style that will be cherished for years to come.